Functions of MyCVthèque
With MyCVthèque, you can reduce your administrative tasks, automate the applicant registration process, create a pool of qualified CV, have a complete application tracking tool.
MyCVthèque is a simple-use, ergonomic and carefully designed tool, perfectly and rapidly integrating to your existing website.
With MyCVthèque, a constant evolution is guaranteed through your feedback, our reresearch and partners.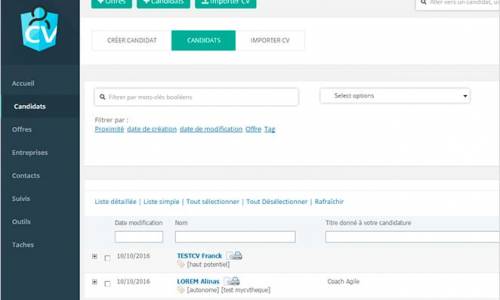 Amount of CVs
Unlimited
Amount of offers
Unlimited

"Turnkey" recruitment page for your website

MyCVthèque provides your company with a professional communication tool focused on the job market.

Multi-criteria research engine of the offers with sorting of results
Online, unsolicited or job posting applications
Configuration of job offer displaying

Pool of applicants

MyCVthèque allows you to keep the applications sent to the company to create a recruiting pool.

Analysis of emails and forms sent through your website or partner websites
Recognition of CV fields (PDF, DOC, RTF) and automatic integration to the database
Multi-criteria applicant reresearch with sorting of results
Full-text reresearch in the CV, the cover letter or further notes concerning candidates
CV classification according to the compatibility with a job offer
CV classification according to the exhaustiveness of applicant data entered
Management of the relationship with applicants: mailing, automatic or manual response
Tracking, traceability and archiving of all applicant actions

Manager of job offers

MyCVthèque facilitates job offer drafting and diffusion.

Creation, editing and publication of the offers
Management of job offers by departments / subsidiaries
Management of schools, partners and diffusion media
Job posting on your website
Email sending through partner websites
Real-time statistics by offer and medium
Matching of an offer with the CVs contained in the database

Automatic offer mailing to your media
Option
Viewer of attached file

Assistant to the recruiting process

MyCVthèque facilitates offer drafting and their diffusion

Management of the answers to an offer
Comments about CVs
Data export in MS Office format
Mailing of selected applications to operating agents or managers
Mailing to the applicants
Tracking of the interview's feedback with the operating agents and archiving
Tracking of the recruiting steps by position or by applicants

Standard statistics
Administrator Module
Semantic analysis

CRM Module

MyCVthèque facilitates the management of your missions or those of your clients

Creation and editing of clients and subsidiaries
Management of contacts
Management of client tracking
Client integration, from contacts to missions
Appointment booking directly through Outlook

Company Module

Reporting tools about your indicators

Quantitative and qualitative statistics of your e-recruitment or reclassification actions

Option
Applicant personal page
Option
Service manager
Option
Personnalisation
Enregistrer
Enregistrer
Enregistrer
Enregistrer
Enregistrer
The benefits of MyCVthèque: an immediate return on investment
It improves the processing time of job offers and applications
Through the automation of job offer diffusion, the advanced research tools of the application database and the integration functions of job offers/applications, MyCVthèque makes recruiters more responsive.



It favours a qualitative approach

The analysis tools of MyCVthèque ensure a quick identification of applications that better match the profiles sought.

Applicants are better targeted and the recruiter has more time to meet them.

It develops the company's fame
In the job offer websites, all job offers look alike!
Build a personalized and reliable recruitment page on your website.

Establishing a direct link with the applicants, you enhance the fame of your company.

It capitalizes and centralizes any information about recruitment.
The application and job offer database, the collaborative tool of recruitment tracking, the history of the relationship with an applicant allows you to create a real strategy of Applicant Relationship Management (management of the relationship with the job market).



It frees companies from technical constraints.
MyCVthèque is an ASP solution (ensuring a secured Internet access), constantly and simultaneously available to several actors.
The solution updates are transparent, availability is guaranteed and data are systematically saved.